Lucerne 27.09.2015
---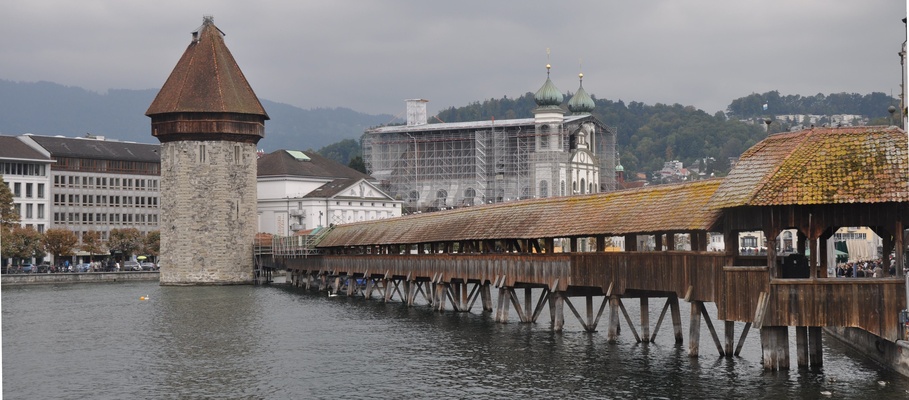 Lucerne is a nice city in around a hundred kilometres from Zurich. As I was in Zurich I decided to check that city as well. The place is more oriented on leisure and sport tourism. Mountains nearby for skiing in winter and for hiking in summer. So as usual I started to explore the city from the central train station.
It was a bit cloudy, fortunately without rain and wind. So that was not that bad. However I had a feeling it might rain a bit.
The city is not that big, though there are so many tourists here. Especially Chinese. It also looks like it's their first time abroad. Or at least it was the first time they saw the swans.
The historical part is around the Reuss river and it's really cool to walk along it. You need something like half a day to walk through it. There are a lot of interesting bridges over the river. Some of them are with chapels. On of such bridges is Chapel Bridge (Kapellbrücke). It is the oldest wooden bridge in Europe. It is also known as one of the most notable sights in Switzerland. To be honest I've never heard about it before my trip in here (:
If you go a bit upper from bridges and river you will find the Museggmauer wall, or what left from it. There is a huge fragment of the wall which was built about 600-650 years ago.
On the way to the wall you can have an impression, that you are in the village. Grass and trees are everywhere, young bulss are grazing nearby. Lovely..
There are 8 tower connected with a passage on the wall. If you're interested you can climb on each and every tower (though there is no elevators). Completely for free.
Do not think it's yet another province city. Free IAA exhibition is available throughout the whole country, not just in Zurich (:
Here in Lucerne there is "the saddest and most moving piece of rock in the World" according Mark Twain. It is a Lion of Lucerne monument designed by Bertel Thorvaldsen. It was built in honor of the Swiss Guards who were massacred in 1792 during the French Revolution
It really looks sad.
There are a lot of shops which sell watches and souvenirs throughout the city. And there are a lot of Chinese who buy quite expensive stuff there. Though I didn't notice Russians who's trying to spend a lot of money :)
Covered bridges over the river are interesting not only from outside, but from the inside too. Well, it's not a national gallery level, though it's still curious.
In general it's quite interesting city. It would be nice to check the mountains, some hiking trails and snowboard trails, unfortunately I didn't have all the time I need for it.
---