Nara 17.04.2015
---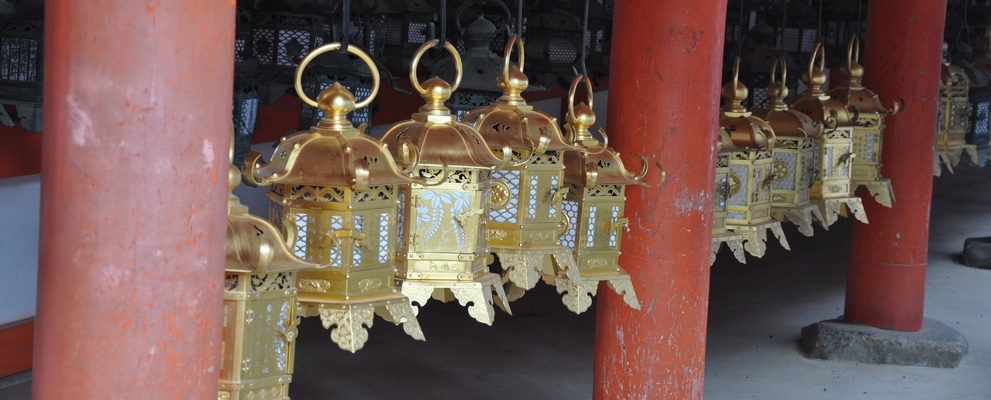 Nara is the city of deers. They live right in the city center, do not afraid people. Some of them might even bite or butt you. All this is just because of tourists who spoiled the animals with cookies and selfies. You can always fine a guy nearby who will sell cookies for you, so you could feed the deers. Just 150 yena and here you are. Though some deers were extremely impudent so I had to lecture them a bit (:
In park depth deers much calmer, they do not bite you and they even don't look so well-fed. Still they don't afraid people.
Among the deers there are a lot of historical temples in Nara (there are a lot of them throughout Japan). Some of them are listed as world heritage and are under UNESCO protection. Most of temples are still actove. You can often meet there real monachs.
There also a huge Buddha statue (around 16 meters high). Though in this place they built a temple around the statue, therefore Buddha sits inside the temple. It would be also hard to overlook a huge amount of school pupils. IWhen you see so many kids in a single place you're starting to wonder why Japanese are knows aging nation.
Most of sights are located in the same place, and it was better to stay there, though we decided to look at another part. So after a long ride on bus we found ourselfes in the middle of village. Fortunately we had a navigation, otherwise we would lost there (well, without navigator we'd lost in the most cases, though in this place it was extremely helpful. even more than usual, as there even was no people to ask help).
Initially it was planned to stay the night in Nara, though after a brief search it was clear that the rent price in this area is incredibly high and it would be better to stay in Kyoto. Therefore in the evening we were headed back to Kyoto.
---